There are few times when you can reflect back and pick a week that was fundamentally transformational. For this family, Journey to Freedom was one of those weeks.

Journey to Freedom is part of the Elephant Nature Park, an organization dedicated to the preservation of elephants. We picked this program because it had a service element, which was one of our goals for the trip, and because we wanted to experience the southeast Asian elephant in a humane way (we didn't want to support riding elephants) and with a focus on conservation. In our search to find such a program, Elephant Nature Park (or ENP as its called) constantly came up as the leading organization. We did some research and signed up for their Journey to Freedom experience because it involved elephants, service and engaging with the local community.
We were picked up early Monday morning (December 31st 2018) and transported to the central office in Chiang Mai, where we met Yo, our guide / leader for the week, and others on our trip. We loaded back into the van and then whisked away on a three hour van trek south. In our bus was Kristian and Davey, two people we would become very close to over the coming week. Several hours of serpentine roads led us to a village where we stopped for lunch before boarding 4×4 vehicles for the final 4-5 km trek to our final destination. Our location for the week was on the edge of the Doi Inthanon National Park, a place we visited earlier in the week, and situated high in the mountains at 6,000 ft. We arrived at the Journey to Freedom site in the early afternoon to find a small collection of bamboo houses wedged into an amazing valley. Our group of 14 was larger than normal so Team Andrews had a house away from the main site next to a stream on the edge of panoramic pastures.

That afternoon the elephants came to visit the main site, and we would spend hours with them each day over the following week. The herd of five was comprised of four females ranging in ages from 8-48 years with a two year old baby named Gili. Each of the adults was "owned" by a local villager and had been "rescued" from logging or trekking camps over the previous five years. This heard now roams freely in the high mountains grazing naturally in the forest / jungle. The elephants are shepherded by mahouts who ensure the elephants don't wander into a farmer's field and cause commercial damage. All of this has been made possible by organization and funding from the Elephant Nature Park, with funding coming from tourist / volunteers like ourselves.

The best way to experience Journey to Freedom is through this video:
The Journey to Freedom lodging can best be characterized as glamping. There are group sleeping arrangements in bamboo buildings (which are not airtight). Everyone sleeps on a mattress with a mosquito net and one or more warm blankets. It's winter in Thailand so the temperature during the day were mid to high 70's and at night it dipped well into the 40's. Given our tropical wardrobe, it was cold at night with everyone layering up and huddling around the campfire for warmth in the evening and morning. Food at all ENP facilities is vegetarian or vegan – it's simple but amazingly good. Breakfast is served at 7:30 am and activities start at 9:00 am. Lunch was roughly around noon and dinner at 6pm. The sun sets around 5:30 pm and it's dark by 6:30 pm.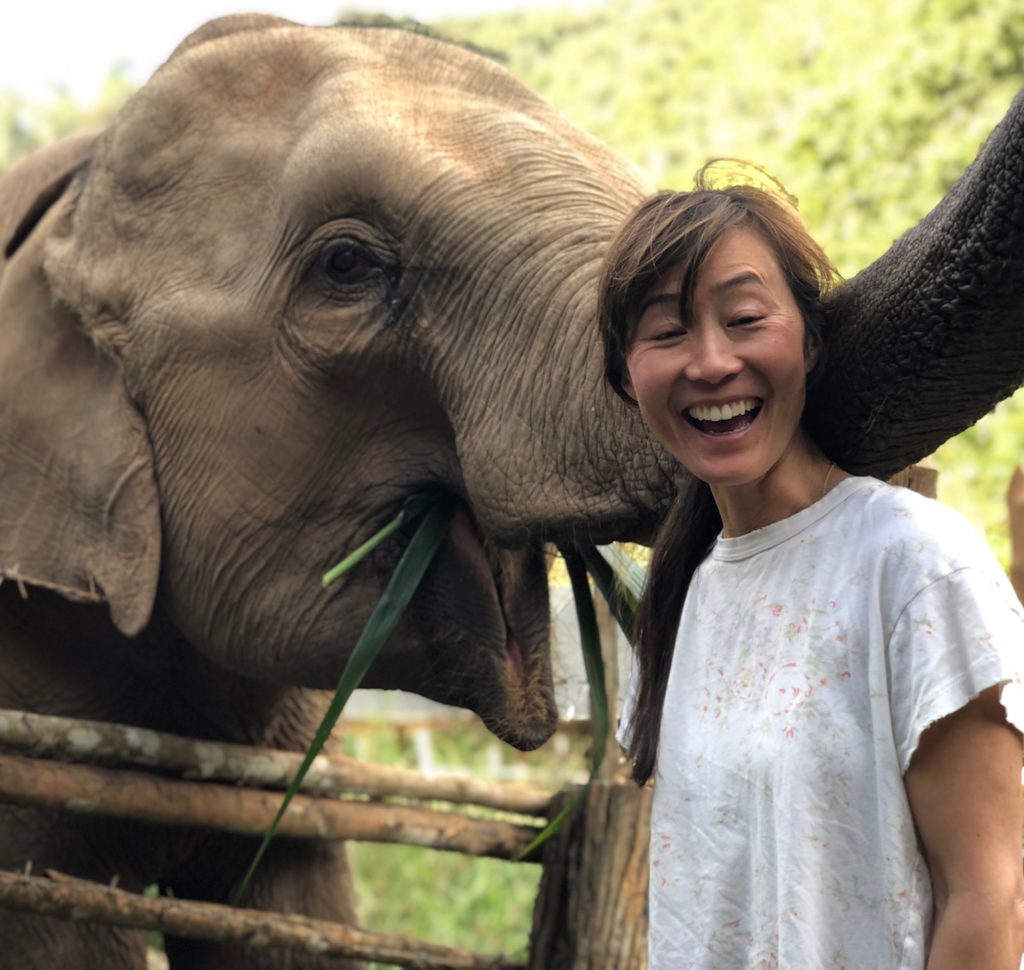 Yo, our guide, was from the local Karen tribe (he and Gili are in the picture for this post). Not only was he an amazing host, he was incredibly knowledgeable on a wide range of topics. Our group came from all walks of life and nearly all of them had been to ENP before and were highly dedicated to elephant conservation. They engaged with our family and many adopted our kids for the week with lots of learning going on both sides.

The goal that week was to spend as much time with the elephants as possible, and interact with the local community through a range of activities. Our week was unique because it straddled the New Year so school was out and the farmers weren't working. Here's a quick summary of each day:

Tuesday (Jan 1, 2019): We spent all day with the elephants high in the hills about our campsite. That evening we were transported by pickup back to the local village and were welcomed by everyone into their home to drink the local moonshine and eat New Year celebration leftovers. We went house to house, akin to a high Thai mountain pub crawl, partaking in everyone's hospitality (it was rude to say 'NO'). Everyone ate and drank their fill.

Wednesday (Jan 2, 2019): We went to the local Hmong kindergarten and interacted with the children (ages 2-5 years). We spent time reading books, teaching english and playing with these exceptionally cute kids. Their english was truly amazing at such a young age. Their lunch that day was paid for by ENP and we stayed around to help clean up. That afternoon we hiked a short distance to see Mae Boonjan, a 52 year old female elephant that was kept separate from the herd because she didn't get along. She is a beautiful and very active elephant and it was fun to watch her roam and graze.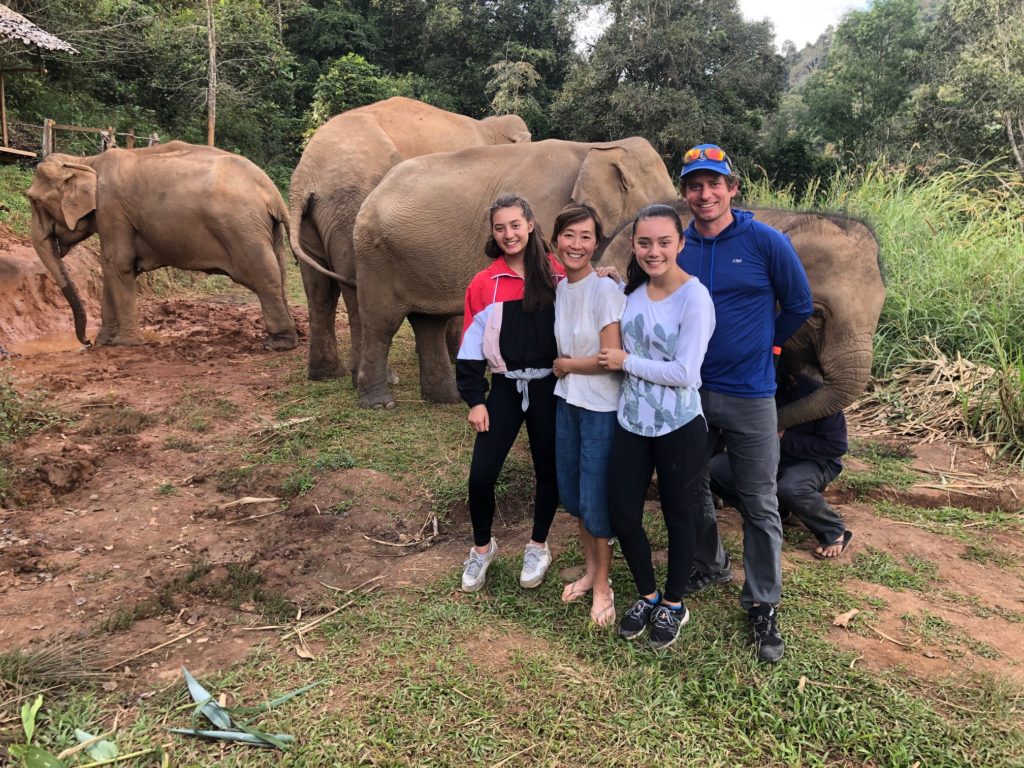 Thursday (Jan 3, 2019): We traveled high into the hills and harvested a type of grass that the elephants love, and then returned that afternoon to feed the herd when it visited the camp.

Friday (Jan 4, 2019): We moved a pile of sand up to a site where they are building a concrete water tank to provide more drinking water year round, and then spent the rest of our final day at Journey to Freedom relaxing.

Saturday (Jan 5, 2019): We packed up and drove three hours north to the Elephant Nature Park. ENP is a 60 acre facility in a beautiful valley that is dedicated to the rescue and hospice of elephants. Nearly all of the elephants there are recovering from injuries or afflictions (e.g. broken legs, blindness, trauma from land mines, etc.) that were a result of a prior working life. The facility houses over 80 elephants as well as hundreds of rescued dogs, cats and other animals. That evening Lek, the founder of ENP, spoke to us and other volunteers for over an hour about her story, the purpose of ENP, and how people can support wildlife conservation. It was a great experience, as well as an opportunity to meet other volunteers and travelers.

Sunday (Jan 6, 2019): It was our final day at ENP and Yo gave us a two your tour of the park. We returned for a final lunch and then farewells as everyone scattered at 1pm.

Elephant Nature Park has a great mission. If you ever make it to Chiang Mai a visit to ENP is a "must do". For those seeking a more indepth experience, there are a range of volunteer activities and longer programs. You can read all about them on ENP's website: https://www.elephantnaturepark.org/
More views of Journey to Freedom? Watch this video of exclusive aerial footage: