Bagan is a magical place.

We have not been to the valley of the pyramids, or Machu Pichu, or Angkor Wat (we skipped it to go to Bagan). But Bagan has to rank among the ancient marvels still remaining on this planet. It's incredibly photogenic – we have more content from Bagan than some countries combined.

In historical times Bagan was called Pagan, and it was the capital city of the Pagan Kingdom (modern day Myanmar) between the 9th and 13th centuries. The monarchs of Pagan unified the region to form the Pagan Kingdom and prosperity grew. During a 250 year period from approximately 1050 to 1300 AD the local wealthy and elite built over 10,000 Buddhist temples, stupas and monasteries in a 100 sq-km (40 sq-mi) region now called the Bagan Archaeological Zone. Today around 2,200 of these structure remain with most of them in good shape due to the arid climate. The size and scale of the Bagan Archaeological Zone is mind blowing. Any one of these major monuments would be a national treasure in another country. Here they are scattered about like loose change. The minor monuments are everywhere and have a higher density per sq-km than Starbucks coffee shops in Seattle (which, as a Seattle based family, is very impressive).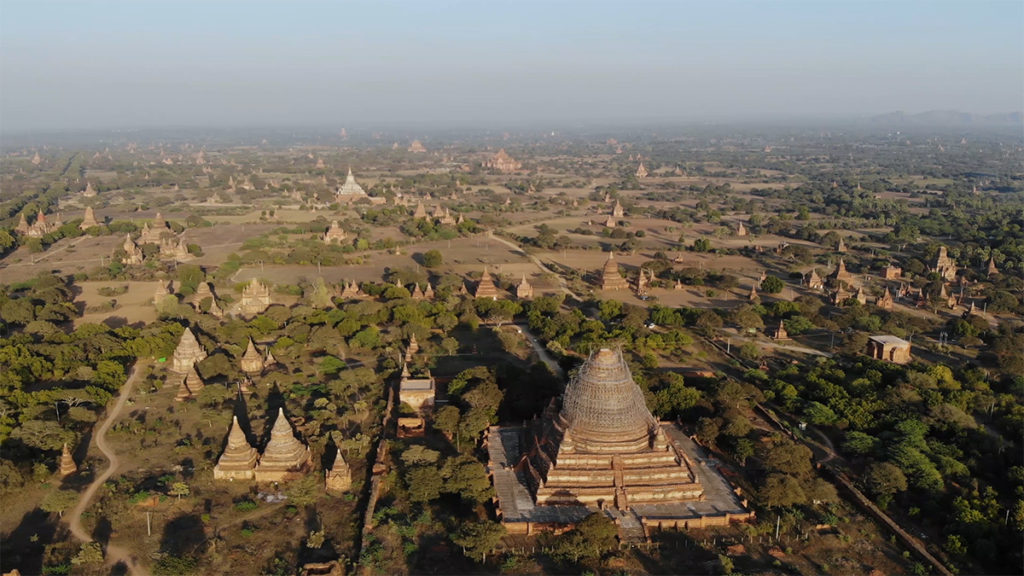 We rose early the first day at Ethan's insistence (that was a first – if he wanted to go then we MUST go) and are so glad that we did. We were up at 5am and on our e-bikes by 5:30 am headed south from Old Bagan to the cluster of pagodas we found the night before. We arrived as first light was creeping into the eastern sky. We were some of the first people on the road and knew we were heading in the right direction as several Tuk Tuk's with local guides carrying tourists turned off on the same road. They headed to a renovated flat roofed temple for their clients, while we turned off to climb a spire. There were just a few people ahead of us and we got a great spot after scaling 20 feet in the air. It was a magical morning – probably typical for here. We would repeat some version of this experience for every sunrise and sunset during our stay. After sunrise we rode into New Bagan for breakfast and then returned to explore the Archaeological Zone. We wound up spending 7 hours exploring, captivated by its magic, and eventually had to head back to our hotel to recharge our batteries – literally and figuratively – I went through three drone batteries and two GoPro batteries. I had nothing left to record with!

Bagan is an all you can eat buffet of archaeological and historical wonder. We could not get enough of this place, which resulted in several very long days. We were on the road by 5:30 am in search of the ideal place for sunrise and found that we didn't return to the hotel until 2-3 pm to recharge. We were then heading back out at 4:30 for sunset and dinner, returning between 8-9pm.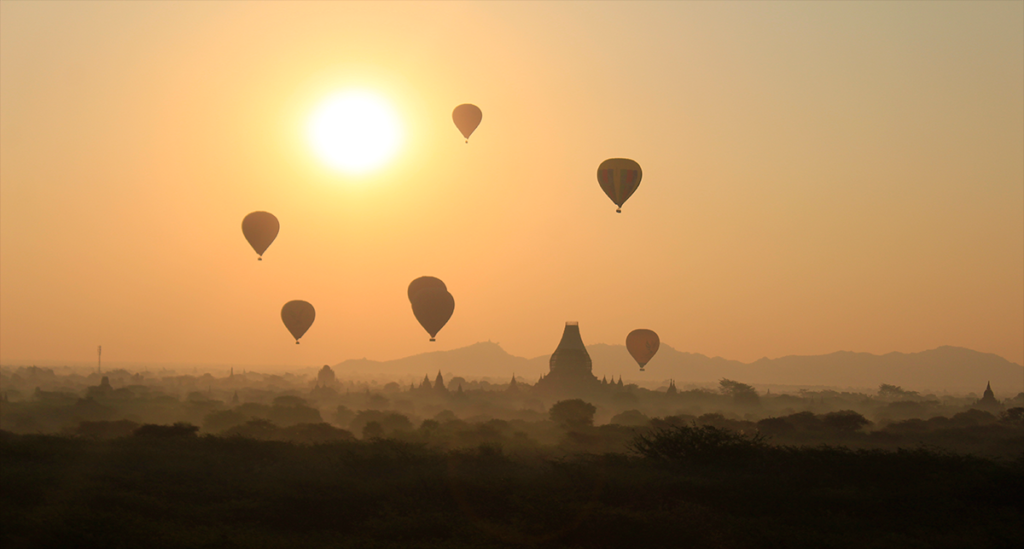 Where to go / what to see: EVERYWHERE and EVERYTHING. If you haven't already, download the maps.me app (link) which is an offline version of google maps. With this you can explore the whole region without burning cellular. In addition, many of the historical sites are already marked on this map with reviews from previous travelers (an us!).

Sunrises and sunsets are magical and the morning and evening golden hour(s) are the best times for photos. The best time to explore is between 8-10 am when the sunset crowd has drifted off to breakfast and the afternoon crowd is not out and about yet – and it's the coolest time of the day. Personally, we enjoyed roaming the Bagan Archaeological Zone more than visiting the four or five big temples. You can divide the sites into three categories: full tourist attraction, minor tourist attraction, and completely abandoned.
Full Tourist Attraction: Each of the big temples is encircled by a tourist bazar selling souvenirs and local goods to tour groups coming and going on large buses. Most of these sites have been restored and recently painted. The exteriors feel authentic but the white washed interiors feel sterile and lacking historical context. We did not spend a lot of time here. The main ones are: Ananda Temple and Shwezigon Pagoda.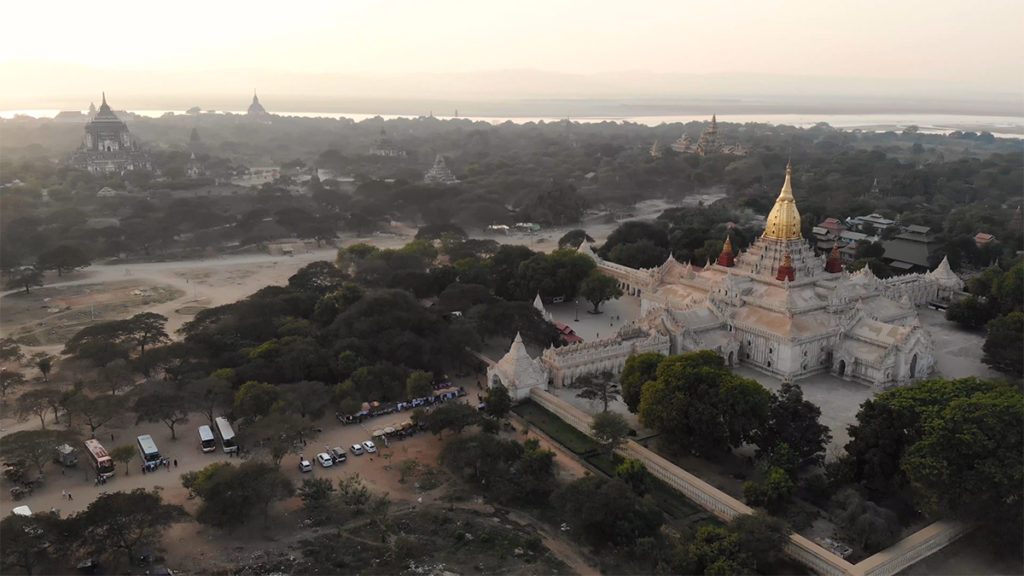 Minor Tourist Attraction: There's is only a handful of merchants out in the Archaeological Zone and they are clustered around the major temples. These were our favorite sites.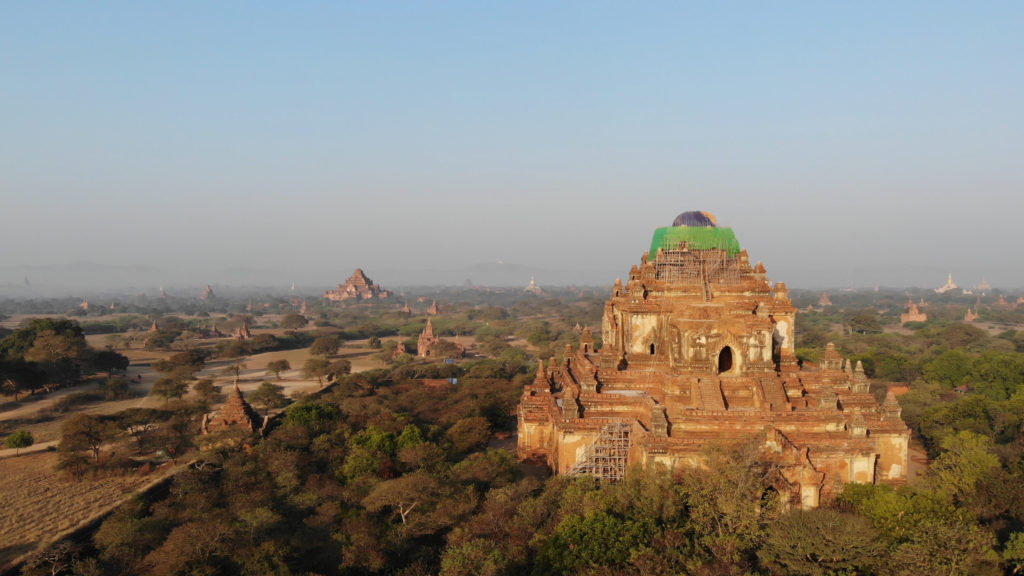 Sulamani Temple: We were enchanted by this temple. It was stunningly beautiful on the outside and had the best preserved murals (frescos) on the interior. Unfortunately it took a beating in the 2016 earthquake which toppled its 20 meter spire and created a lot of damage when it fell down. It's currently undergoing some repairs but you have full access to the main level.

Dhammayangyi Temple: This is the largest temple in Bagan and has two story interior walkways. It's a very impressive structure and has amazing interior lighting.

Dhammayazika Pagoda: This pagoda is unique in that it has a pentagon shape. All other pagodas in the Bagan Archaeological Zone have four sides, each with a Buddha aligned with a cardinal direction on the compass (North, South, East and West). The architecture of the Dhammayazika Pagoda is stunning and the gardens around the pagoda were in full bloom and beautiful.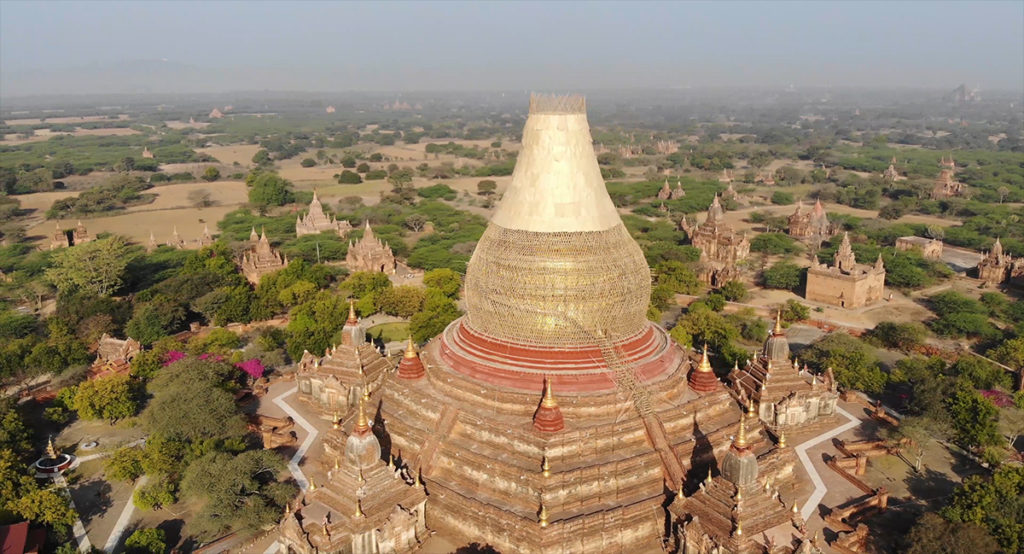 Completely Abandoned: With over 2000 structures scattered about the Bagan Archaeological Zone it's easy to find your own personal complex to explore. For those traveling without teenagers you will find it serene and peaceful. Take your time. Go back in time. Enjoy.

Off The Beaten Path: There's more to see here than just thousands of historical objects. I found it fascinating to observe the local tribes working the fields across the Bagan Archaeological Zone. Goat herders and their flocks roam the narrow paths and fields (we ran into them a lot because of our off the beaten path approach). Women collect berries underneath the trees. Family craft lacquered bowls from strips of bamboo. Most of these people lived in villages encircling the plain. Walk through West Pwazaw located to the southeast to observe the local culture and their stilted bamboo houses with corrugated roofs.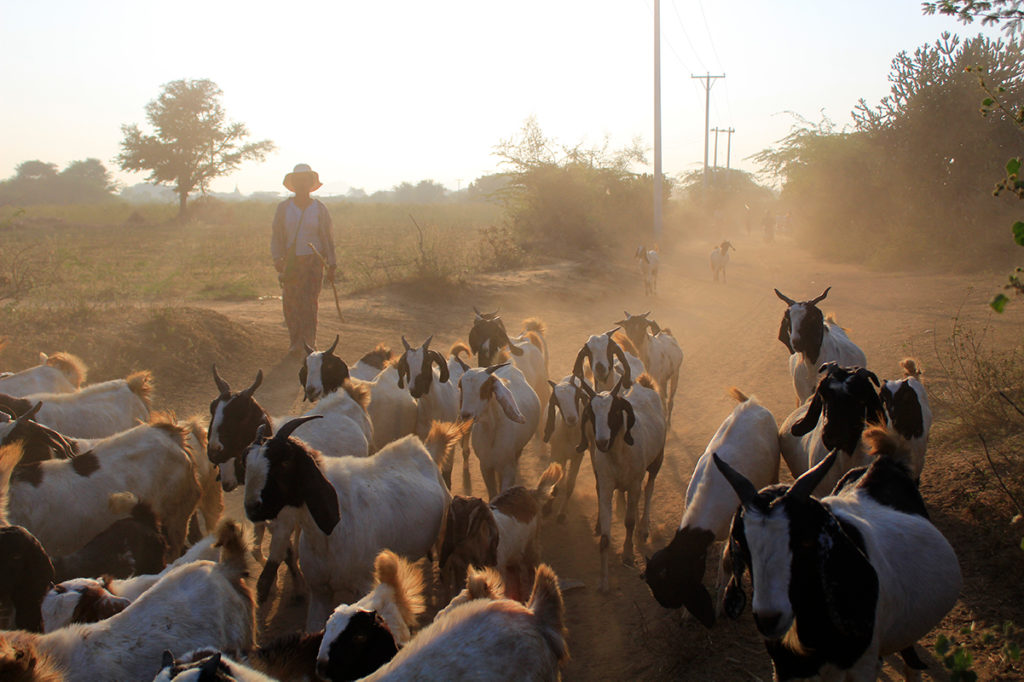 What to climb on: Sadly, or thankfully (depending on your perspective), the days of unfettered access to these ancient monuments is over. They were never built for industrial tourism and many are suffering from several recent earthquakes. The most recent was in 2016 which damaged many structures and they are undergoing structural and waterproofing renovations. All stairways leading to the upper levels are now gated off as of Feb 2019. Trust me – with three teenagers on e-bikes we spent hours baking under the hot sun in search of lost treasure (i.e. roof access) and checked dozens and dozens of obscure places. It's clear that most of these gates and locks are only months old so "securing" the Bagan Archaeological Zone has been a major focus by the Government as part of their preservation (and safety) efforts.

If you are thinking of going rogue and scaling the walls, consider this: you are climbing on an active religious structure and a historical treasure of humanity. Would you think about scaling an ancient church in Europe? The kids were all too willing to scale the walls but also realized that you have to respect the religious and historical significance of this amazing place. The ascents would be tricky and the structures are crumbling so it is not without risk. There is no ambulance or hospital within 500 km so you are pretty screwed if you are seriously injured (a tourist died recently from a fall). Thankfully most of the lower levels are still open so you can explore the primary spaces to your heart's content.

Where to go for sunset and sunrise: To meet the demand of tourists looking to get that Bagan instagram post, they have built viewing berms in several locations. These give you a great view of the sunrise or sunrise. Many fill up from all of the tour buses but there are several obscure ones with only a few people. During our balloon ride we also noticed a few places where tourists were on the upper reaches. It's clear that several locals have keys to the locked gates and for a fee you can get a higher vantage point. We did not hire a guide, but that may be a place to start. If you are riding your e-bike down the dirt roads of the Bagan Archaeological Zone in the pre-dawn hours many locals will come up to you on their motorcycles and offer to take you somewhere to watch the sunrise. We did not take their offers since each morning we had a plan, but that could prove fruitful as well. Your other option is to follow the tuk tuk's driving tourist to some of these vantage points.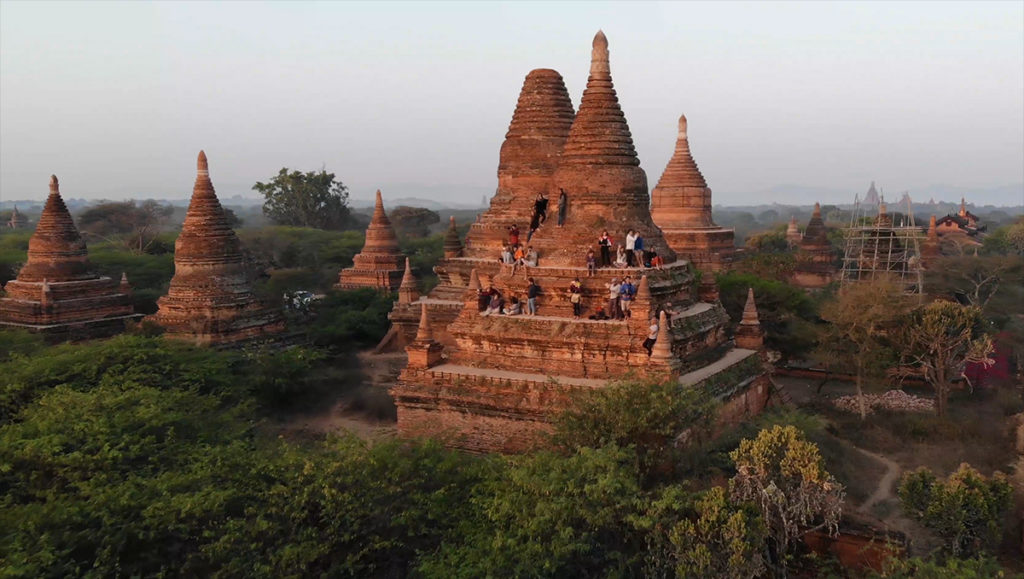 Through our explorations we did find a few places that were not gated or where climbing was allowed.
Hot Air Ballooning: If you can swing it, take a sunrise hot air balloon trip over Bagan. We splurged on this experience figuring you have to go in a hot air balloon once in your life and you might as well do it here. This experience will be the subject of a separate blog post.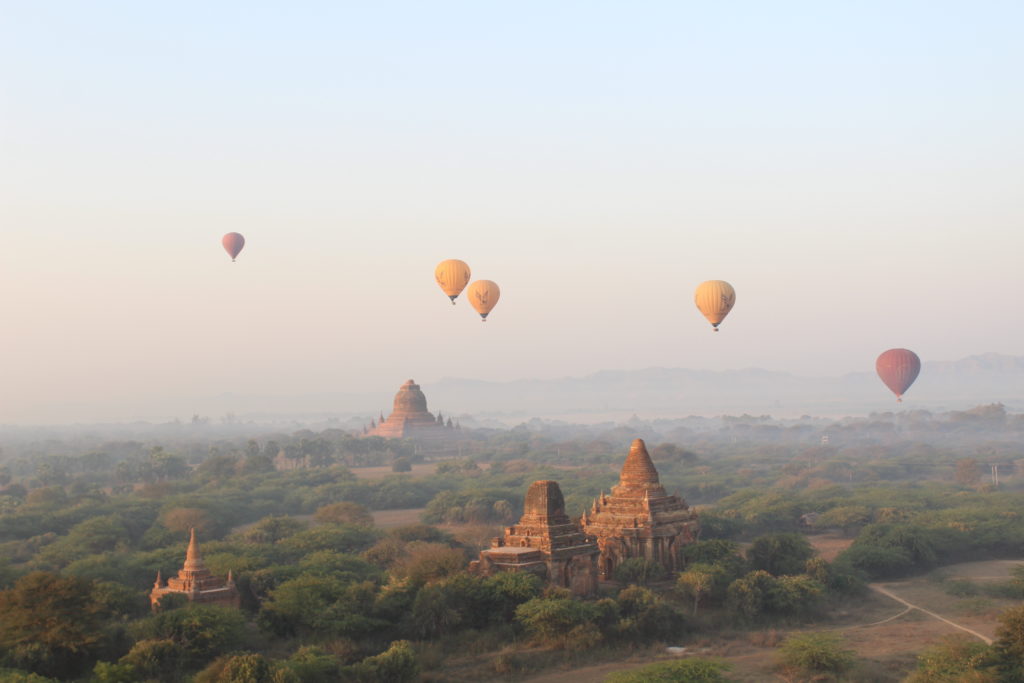 How to get around: Transportation options range from large buses to horse drawn carts and bicycles. For those who want to explore, the e-bike (electric moped) is your best bet. Through our hotel they cost 4000 kyat ($2.50 USD) for a half day and 8000 kyat ($5.00 USD) for a full day. They might be cheaper if you go direct to one of the many rental places on the street. Note that the price seemed to be "per person", not per bike, because we asked if it was cheaper to double up and put two people on a scooter and the answer was NO. The e-bike provides the freedom to explore the smallest trails and even go where there is no trail. Our marauding family was a cross between Lawrence of Arabia and Steve McQueen.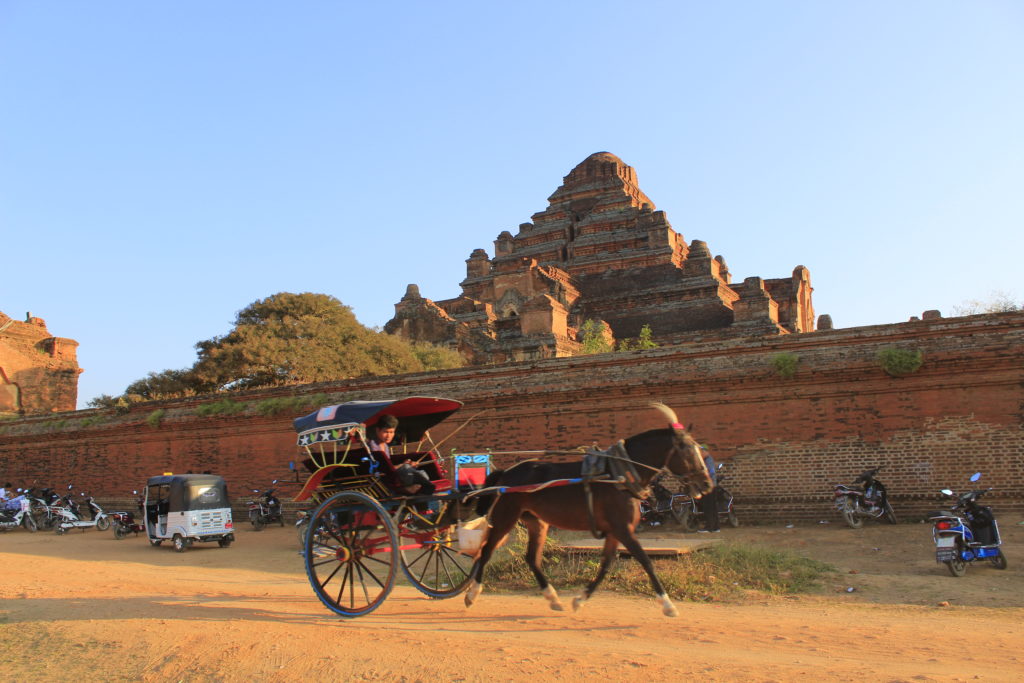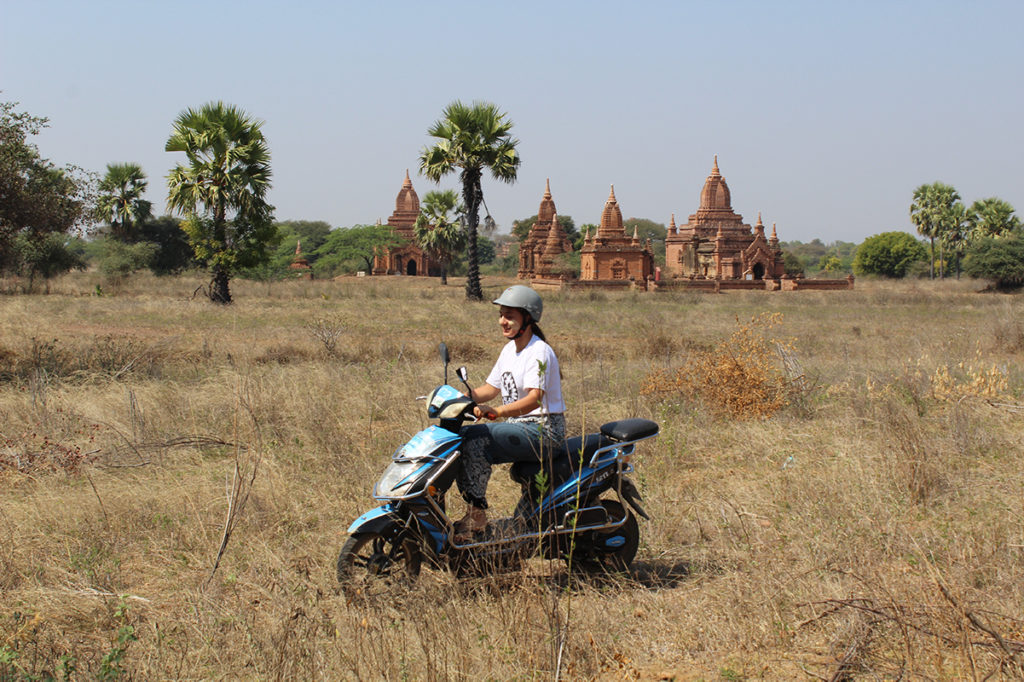 We read online about e-bike "range anxiety" and we did not have that problem. Our hotel provided fully charged e-bikes every morning and we ran them from dawn to dusk crisscrossing the Bagan Archaeological Zone without problem, regularly going 40-60km per day (you aren't going to do that on a bicycle in this heat). Occasionally they got low on power in the afternoon and we would swing by the e-bike operator after our afternoon nap (when you get up at 5:30 am every morning you need a nap and reprieve from the mid-afternoon heat) and swap them out for freshly charged ones.

What to bring: An adventurous spirit, a headlamp, a face mask and lots and lots of water. Myanmar is generally hazy from all of the smoke (cooking fires, garbage fires, field clearing fires…you get the idea). We were there during the dry season and Bagan is generally arid so its very dry and dusty. We did not have face masks but wish we did. Cary a headlamp to explore dark passageways and light up the murals inside of the many temples.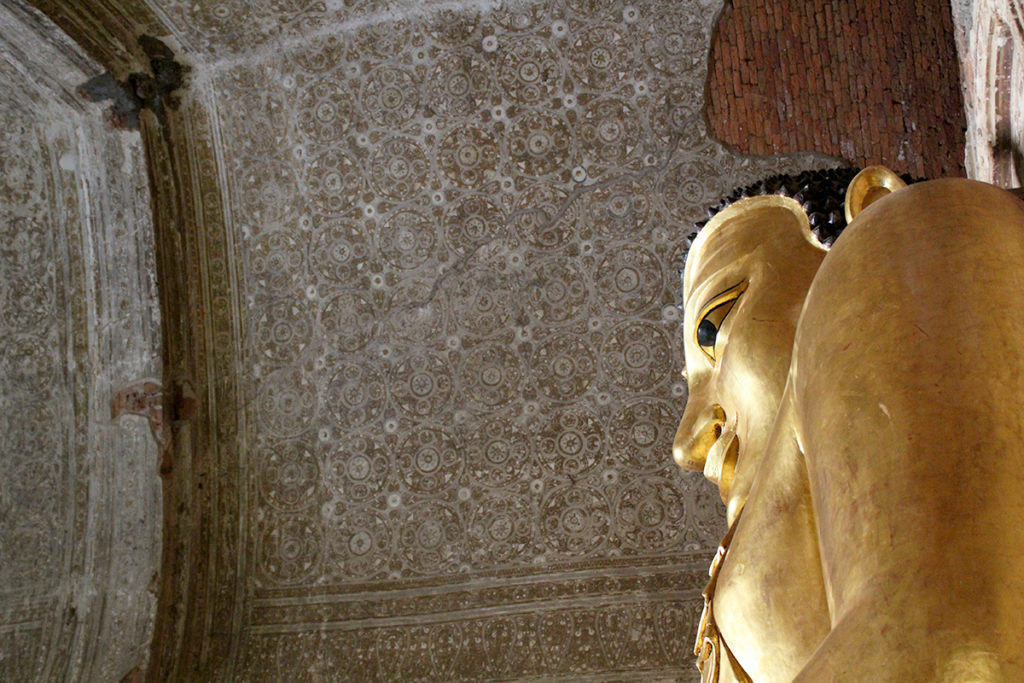 Travel Advisory / Pro-Tip: You may also consider a pair of disposable flip flops. Flip flops are standard SE Asian footwear but don't seem like the first choice when riding scooters off road and through thorny brush. However every temple / pagoda / stupa requires you to take your shoes off before entering to pay respect to Buddha. As a result you take your shoes on/off dozens of times a day and end up exploring these ancient dusty buildings, most of which are filled with pidgeon or batt scatt, in your bare feet. You've never experience truly dirty feet until you've been to Bagan. Putting back on flip flops was bad enough – putting your feet back into your travel shoes would be awful. I had leather sandals and wished I had plastic ones.

Where to stay: Where you stay is a function of how you want to explore this place. Old Bagan is closest to the main attractions and ideal if you are on a bicycle or electric scooter. If you hire a private car and driver for the day, or are part of a large group tour, then where you stay is less important. We stayed in Old Bagan and I would stay there again. The one downside of old Bagan is that there are fewer restaurants and the restaurant clusters in New Bagan or Nuayng-U are a 20-30 minute dark scooter ride away at night. As a final note, tourist infrastructure in Bagan is still developing. In 2018 demand for rooms was beyond capacity and finding a room was difficult. In 2019 the number of tourists was down 25% because of the conflict in Northeast Myanmar, which is very far removed from Bagan. There are many hotels under construction or being planned so you should have options in the future, but will also be exploring with more fellow travelers.

What to eat: Bagan is developing the support systems for tourism. There are a range of restaurants that will serve a combination of local and international food. I found the Burmese food quite enjoyable but not everyone in our family would agree.