Yes – this title is based on the Mohammed Ali fight slogan. We had different drama.

Our next stop after Japan was the Philippines. This country was a late addition to the itinerary after we opted not to go to Australia. Having never been here, we chose our destinations and routes very diligently: we googled "what to do in the Philippines" and picked the pictures we liked best. From that process we (specifically I) wanted to go to the beautiful town of El Nido as well as swim with the whale sharks near Cebu. We originally booked a flight from Tokyo to Cebu because there was a non-stop, and a flight from Puerto Princessa (on Palawan Island and a six hour bus from El Nido) to Bangkok using travel points. We then started to look at housing options, and didn't really know how we were going to get between the two places. Our Philippine itinerary looked like this: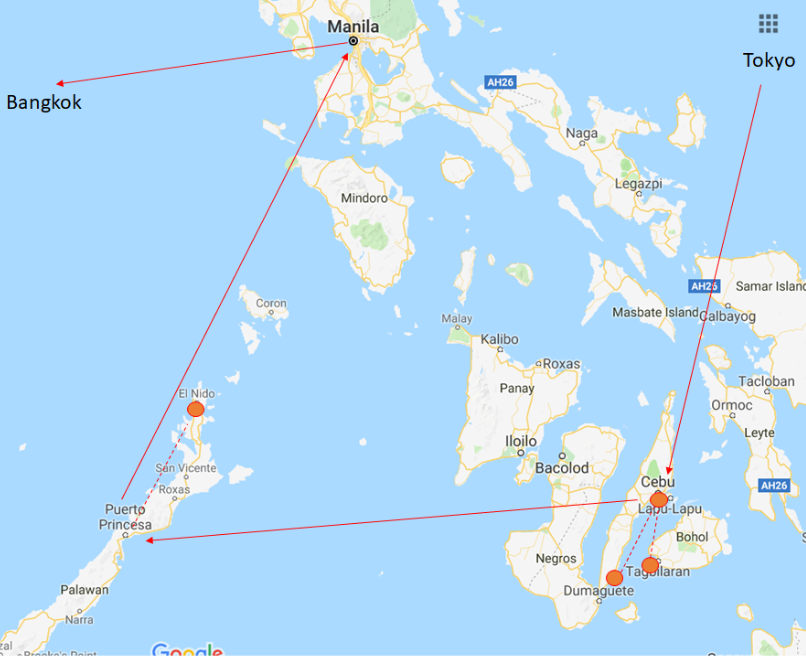 The final booking process got delayed for a number of reasons and by the time we got around to finalizing our housing everything in El Nido was taken for our selected dates. A little more research showed options if we moved that part of the trip up a week so we switched the order around: first El Nido and then Cebu. We changed some flight, bought a flight to connect the two Philippine destinations, and also found a dive shop where the whole family could get dive certified in El Nido and reserved that, putting half our money down.

On Friday (Dec 15th) we woke up in Tokyo at 4am to catch the 5:45 am bus to Narita Airpot (a 2hr ride) to get there in time for our 9:30 am flight to Puerto Princessa via a stop in Manilla. Having shipped our cold weather clothes home, we were down to five bags and all of them had liquids so we checked all five. The flight to Manilla on Philippine Air was nice and uneventful. We then cleared customs in Manilla, rechecked our bags and waited out our three hour layover. The weather was wet and stormy so the flight to Puerto Princessa was delayed. The flight finally boarded an hour late and as we were boarding there was a medical emergency to an elderly passenger which provided extra drama to an already chaotic process. We were near the back of the line and when we got to the front we discovered we only had four passports – Ellis was missing hers. We quickly searched all of our backpacks – no luck. We ran back to security – wasn't there. We went back to our seats – couldn't find it.

Being the Philippines, where things run a little loose, we had gone through at least three checkpoints to get to where we were standing, but no one had checked our passports since entering through customs. Further, the woman holding our tickets didn't seem to care that we were missing a passport. She repeatedly asked "are you going to board the flight sir, or not?" The plane was completely boarded and late, so she was kind but direct that she needed an answer. We had a split second to decide if we wanted to fly to a remote corner of the Philippines missing a passport, hoping we could get back, or stay in the Philippine capital, where there was probably a US embassy. To complicate things further, it was Friday evening and this was the last flight to Puerto Princessa. The embassy wouldn't be open over the weekend so we would have to spend several days in Manilla, which we didn't want to do. Our hotel in Puerto Princessa was already paid for, so was the six hour bus ride to El Nido, as well as half of the five day AirBnB and half of our diving course. So it was a potential "blow up your trip moment". There was a direct flight from Manila to El Nido, but we didn't do that previously because it wasn't covered by frequent flyer miles and it was very expensive.

In the end, under duress, I decided that getting stuck somewhere remote in a foreign without a passport was a bad idea so told the woman we would not board and have Philippine Airlines start the process of offloading our luggage. With the decision made, they escorted us out through a security checkpoint and said we could collect our bags in about 20 minutes. Ellis and Marian went to the Information Desk and had them call Lost and Found. We also started mentally retracing our steps – concluding that we got through Customs so the passport had to be in the airport somewhere. It was 7pm and although we had been up and traveling for 14 hours, we vowed not to leave the airport until we found it. Marian and Ellis kept working through the information desk while Ava and I went to retrieve our luggage and Ethan stayed to guard our bags. We eventually regrouped with our luggage and were all standing there strategizing, when I noticed a passport wedged between the handle of a suitcase and the flap that zips down to protect it. It was Ellis' passport! Apparently, after retrieving our luggage and before handing them off for the next flight, Ellis placed her passport there before going to the bathroom. Somehow it didn't get dislodged in the baggage handling and retrieval process for the Puerto Princessa flight. It now magically returned to us so we were back in action!

The only problem was that the last flight of the day had already left. The Philippines has poor connectivity but I manage to get on my phone and look up Air Swift, the only airline to fly direct to El Nido, and they had seats on two flights the next day: one at 6:30am and one at 2:00pm. I then went on the Marriott website and used points to book two rooms at the Manilla Marriott. We called and caught the shuttle bus and by 9pm we were checked in to a five star hotel. Things were coming together – money solves many problems. We started dreaming of a lazy morning around the pool, using the workout room, casual wifi, suddenly this misfortune looked like a true blessing. Unfortunately, by the time we got to our rooms and I got on the hotel wifi, the only seats remaining were on the 6:30 am flight. I booked it, since our dive class started on Sunday and we need to be in El Nido the next day (Saturday). We had dinner and some drinks, and then stayed up too late using the fast hotel wifi.  We were up at 4am again to be in the lobby by 5am so that we could be at the airport by 5:30am to check in for our 6:30 am flight. We spent a total of 9 hours in our hotel, much to everyone's disappointment. Even though the flight boarded late, we touched down in El Nido by 8:45 am, which meant we were in town 6-7 hours earlier than we would have been via our original route. We were all completely gassed but glad that the trip was back on track!
Editor's Note: There is super sketchy wifi here in El Nido.  Shocked that I'm going to be able to post this at all – limited the pictures so that it could get out.  Keep following Instagram – as we will post the latest there.