When visiting Hanoi or northern Vietnam, Ha Long Bay is on everyone's bucket list. It's lesser known cousin is Bai Tu Long Bay, which is the group of islands just to the east. They share the same stunning limestone massifs that rise from the blue green water, but they seem to be a little quieter than their world famous neighbor.
We went to Bai Tu Long Bay based on the recommendation of Mike, the local guide who arranged the month long school trip the previous year. Many years ago he worked for Indochina Junk Cruise Lines on the Dragon's Pearl, a smaller boat that is focused on providing more intimate experiences. Based on his recommendation we chose Bai Tu Long Bay and given our travel schedule (and budget), we booked a one night cruise.
Ha Long Bay versus Bai Tu Long Bay: Having been to both, I can say that they are very similar. Both share the towering limestone cliffs and mesmerizing blue green water, whose color comes from the limestone dissolving into the sea. The cruise through Ha Long Bay traverses up and down the eastern edge of Cat Ba Island while Bai Tu Long weaves through archipelagos of many small islands. The experiences are very similar, but Bai Tu Long felt quieter and less crowded and I personally enjoyed weaving through many smaller islands instead of past several larger ones. For those who are pressed for time, most cruises to Ha Long leave out of Hai Phong, which is a 2 hour drive from Hanoi, while boats departing for Bai Tu Long leave from Hong Gai, which is a 3.5 hour drive.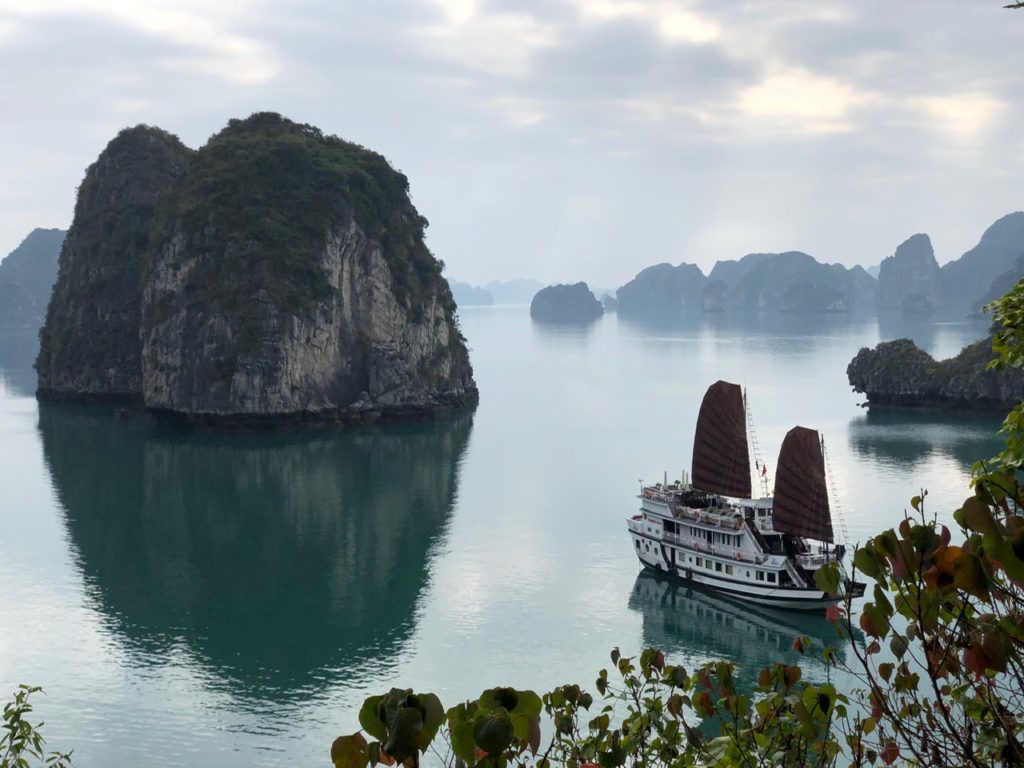 Our Experience: We were picked up at 7:45 am and transported in a custom seven passenger van (it was our family plus a French couple) comfortably to Hong Gai. You stop going to and from Hanoi at a store at a rest stop / tourist trap: a store dedicated to selling art and other merchandise. There are restrooms as well as a cafe to get food. We arrived at at our destination around 10:45 am and were aboard the boat around 12:45 pm. The boat runs on a very set schedule in order to complete all of the activities during our 23 hours on the water. I've included a copy of the schedule below.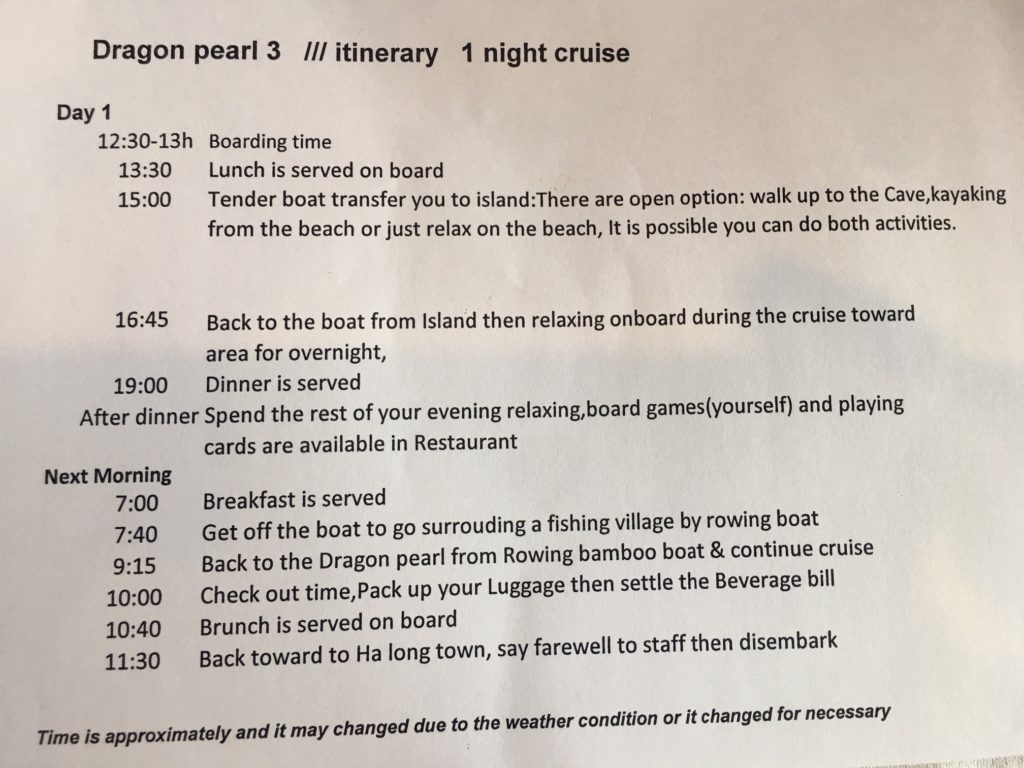 The Dragon's Pearl is a smaller boat that accommodates around 20 guests. There were 19 on board during our cruise. We were the only Americans and everyone else was French. Our "guide" was multilingual so everything was in both French and English, and Ellis and I had a fun time using our French. The rooms are excellent and the food was great. Every meal was a multi-course affair and our food was better than our Ha Long Bay trip.
There were two activities during our time on the water. The afternoon of the first day we visited a small island with an interesting cave and then kayaked for about an hour circling several islands. The morning of the second day we anchored off of a fishing village and were rowed around an island and through their village. Both were fun activities, even if they were a bit "canned" for tourists. As you can see from the schedule, there wasn't much time to lounge around. We were pretty gassed after getting up early and traveling all day so retired to our stateroom early and enjoyed a quiet evening.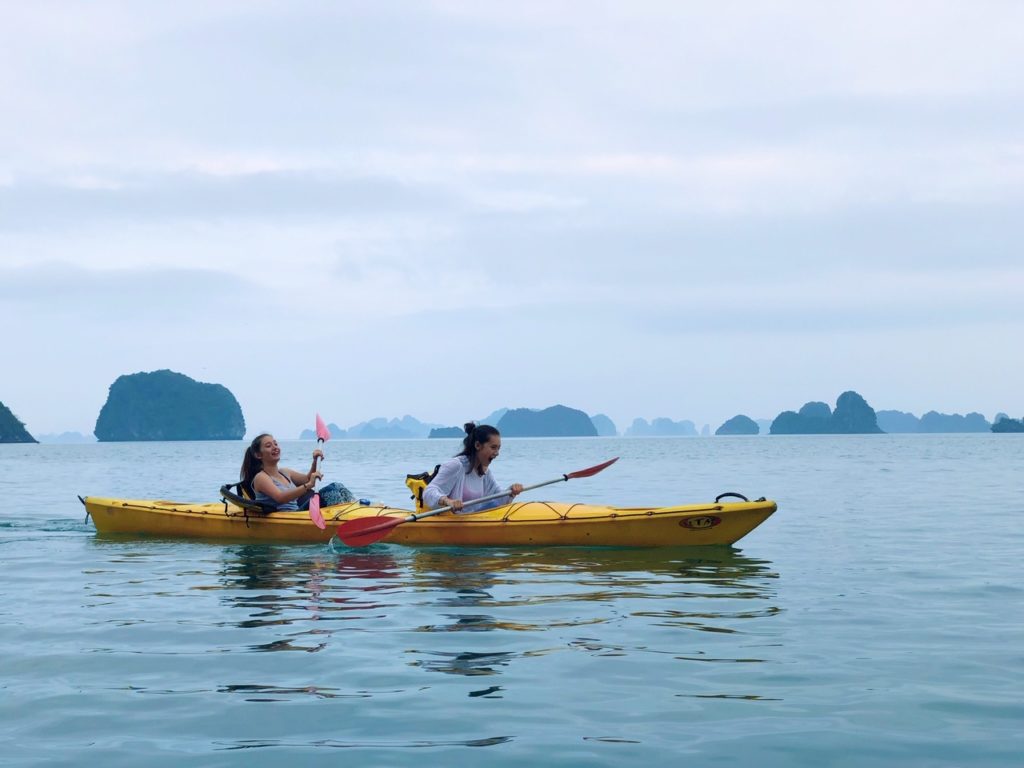 These islands should be visited once in your life and we highly recommend this experience for everyone. Where you go and how long you stay is up to you and will be driven by your schedule and budget. For us, the one night cruise was $180 per person while the two night was $305 per person. For cost and budget reasons we chose the one day and you will see more than enough in that 24 hours to say you've "been there / done that". However, for those looking to chillax a little longer and decompress after the insanity of Hanoi, two or three nights in this majestic setting will do the trick!